Temporarily Closed
Due to Ft Bend Stay At Home Order
We will really-open as soon as we can
shop online or call us, Linda and Cyn are at shop longarm quilting and will do curbside,
May drop off quilts for quilting, call for us to receive from you at door
Shop Hours:
Monday - Saturday 10am - 5pm
Sunday 12 noon - 4pm



Greater Houston Shop Hop


Postponned - will reschedule ASAP


Wed, Thurs, & Sat 9am - 6pm
Fri 9am - 7pm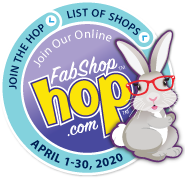 HINT: Fab Shop Bunny Loves Our Classes!



Quilter's Cottage is a full service quilt shop brimming with premium fabrics, notions, books, patterns, kits, and other quilting treasures. Conveniently located in Richmond, TX, our store features a welcoming atmosphere where learning and creativity thrive. We offer a wide range of classes for quilters of all skill levels, along with attentive, personalized customer service. Whether you're looking for expert project advice, assistance with longarm quilting, or just some friendly conversation with fellow quilters, we provide the products and services that make quilting a more enjoyable and successful experience.