As a Fantastic Bonus for each class you take with us you will earn a Beautiful Siesta Sterling Silver Charm. If you attend all 12 you will receive a Graduation Charm also! Come in the shop to see these, they are so nice.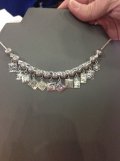 If the Storm at Sea pattern is on your bucket list, but your don't want to paper piece it, then the Diamond Rects has just become your new best friend. Oncde you learn how to make Diamond Rects units you will no longer avaid, what you thought, was a complex technique. The Diamond Rects is seen in the Studio 180 Design pattern entitle Sea Glass as well as Sugar Creek's Smooth Sailing. Don't miss the boat, jump on board now.

* Required tools: Diamond Rects and Quilter's Magic Wand
*Required Technique Sheet: none
*Required Design Sheet: Diamond Rects


NOTE: the design sheet and the technique sheet will be available for purchase on class days



* These items can be purchased at Quilter's Cottage

Basic Sewing Supplies:
Sewing Machine in good working condition, bring power cords and manual
Thread neutral
Machine needles - replace with a new one prior to class
Snips or trimming scissors
Seam ripper

Basic Quilting Supplies:
Rotary cutter with a sharp blade
Marking Pencil - I recommend the Sewline mechanical pencil or the micron pigma marker size .01
Small cutting mat
Straight edge ruler approx. 6" x 12" - I really recommend the 8 1/2" x 24 as you will be cutting WOF
Invisigrip
Best Press or light starch

Fabric Requirements:
Fabrics will be cut during class. Therefore, the fabric requirements are healthy amounts so that you can make your own design choices during class.

For course 1-901, we recommend the following yardage:

(1) 2 1/2" WOF strips of one fabric for the diamond center
(1) 3" WOF strips of contrasting fabric for the side triangles or background of the unit

NOTE: If possible, students should bring with them the units they have made from previous classes.