1-1101 Lemoyne Advanced I: Strip Pieced Lemoyne, Liberty Lemoyne, and Banded Lemoyne



Note earlier time!





Prerequesite: 1-601 Rapid Fire Lemoyne Star: Basic Construction








As a Fantastic Bonus for each class you take with us you will earn a Beautiful Siesta Sterling Silver Charm. If you attend all 12 you will receive a Graduation Charm also! Come in the shop to see these, they are so nice.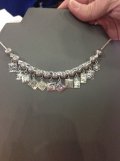 * Required tools: Rapid Fire Lemoyne Star and Quilter's Magic Wand
*Required Technique Sheet: Strip pieced Lemoyne, Liberty Lemoyne, and Banded Lemoyne
*Required Design Sheet: Rapid Fire Lemoyne Star Variations I


NOTE: the design sheet and the technique sheet will be available for purchase on class days



* These items can be purchased at Quilter's Cottage

Basic Sewing Supplies:
Sewing Machine in good working condition, bring power cords and manual
Thread neutral
Machine needles - replace with a new one prior to class
Snips or trimming scissors
Seam ripper

Basic Quilting Supplies:
Rotary cutter with a sharp blade
Marking Pencil - I recommend the Sewline mechanical pencil or the micron pigma marker size .01
Small cutting mat
Straight edge ruler approx. 6" x 12" - I really recommend the 8 1/2" x 24 as you will be cutting WOF
Invisigrip
Best Press or light starch

Fabric Requirements:

In this class you will make 3 - 8" blocks. It is strongly suggested for you to pre-cut your fabrics prior to class.



Strip Pieced Lemoyne. Label your strips as I have named them. If you already have Strip Pieced Lemoyne Technique Sheet, you can refer to it for specific fabric placement.
Fabric #1 (1) - 1 3/8" x 22"
Fabric #2 (1) - 1 5/8" x 22"
Fabric #3 (1) - 1 5/8" x 22"
Fabric #4 (1) - 1 3/8" x 22"
Background (2) - 3 3/4" strips WOF






Liberty Lemoyne

. If you already have a Liberty Lemoyne Technique Sheet, you can refer to it for specific fabric placement.
Fabric A - Inner Strip (1) - 1 3/8" x WOF
Fabric B - Outer Strip (1) - 1 1/16" x WOF (just a smidge larger than 1")
Fabric C - Middle Strip (1) - 1 1/16" x WOF (just a smidge larger than 1")
Background (2) - 3 3/4" strips WOF (subcut one strip into 4 - 3 3/4" squares)





Banded Lemoyne


Fabric A - Diamond Strip (1) - 1 3/4" x 22"
Fabric B - Diamond Strip (1) - 1 3/4" x 22"
Fabric C - Banding of the star (4) - 1 1/4" x 22"
Background (8) - 3 3/4" squares