Shop Hours: Monday - Saturday 10am - 5pm
OPEN Sundays noon - 4pm


This Week at the Shop!

June 12, 2019
Aurifil Thread of Month
Sign up at shop and receive the box and
first month thread 50 wt. white FREE
Receive a spool our choice each month discount price $13.50
Row by Row June 21 - September 3
Our row: Easy as Pie
We have gone together with 7 other shops in South Texas Area to bring you a very unique EXPERIENCE this summer. We have gotten together and designed our rows to collaborate with each other and have chosen fabrics to coordinate to bring you a super cute finished quilt. We are also offering a Shop Hop within Row by Row. Finished quilts will be posted next week for viewing!

Details:

June 21 - September 3, 2019
Row by Row Shop Hop--This shop hop is an event IN CONJUNCTION with the Row by Row Experience.
***ALL RULES AND REGULATIONS OF THE NATIONAL ROW BY ROW EXPERIENCE STILL APPLY***
We want to promote our EIGHT COORDINATING ROWS for our eight shops so we are offering a unique opportunity to not only collect all of our KITS but a FINISHING KIT as well. Once you purchase all eight kits and ONE finishing kit of your choice from the participating shops listed you will be entered in to a drawing for prizes.
This "A Taste of Summer RXR Shop Hop" will begin June 21st and last until July 13th.
**A Taste of Summer RXR Shop Hop Details:
1. Pick up your passport at any of the shops listed below.
2. Purchase a kit from each shop--get passport stamped (free pattern does not count-must purchase kit)
3. Purchase ONE finishing kit of your choice from any of the eight shops listed--get passport stamped
4. After purchasing all eight kits and one finishing kit between June 21st-July 13th leave completed passport at one of the shops to be entered into prize drawing.
Grand Prize:
A 3 day, 2 night retreat for 5 people at Three Oaks Retreat Center in Yoakum. (Extra spaces can be purchased from Three Oaks Retreats).
2nd-9th Place:
$25 Gift Certificate from Participating Shops
The following shops will be participating in the "A Taste of Summer Row by Row Shop Hop":
Two Chicks Quilting--Ganado
Quilters Cottage--Richmond
It Seams to be Sew - Sugar Land
Quilters Patch--Victoria
Beefore It's A Quilt--Port Lavaca
Seams Like Home--Yorktown
Three Oaks Retreats--Yoakum
The Square Quilter--Shiner
"A Taste of Summer" will be revealed soon!
Row by Row Experience Completed Quilt Challenge:
**Anytime between June 21–October 31, 2019 be the first person to bring a finished (quilted, bound, labeled) quilt using at least 8 different rows from 8 different participating stores into a participating quilt shop and receive a bundle of 25 beautiful fat quarters.
**Include the shop's row in your quilt and receive a bonus prize! Limit one prize per person.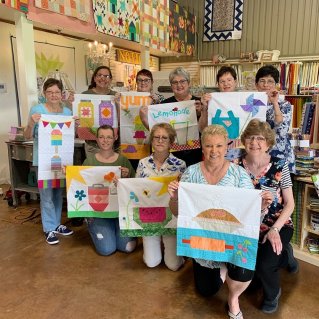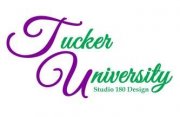 Sophomore Year is underway!


Eight at Once / Non-Mirror Combo 2-401




4 patch square up 2-501




Geese on the Edge 2-601


Freshman Year is being repeated!


Lemoyne Star 1-6-1




Lemoyne Star Advanced I 1-1101




Lemoyne Star Advanced II 1-1201


See classes on webpage for dates & sign up Online.
www.quilterscottagefabrics.com


A BeColourful Class
with Authorized Teacher Megan Hollingshead
Pick your pattern


2 part class



June 15 & July 13

Jelly Roll Rug


2 dates to pick from


June 22
August 16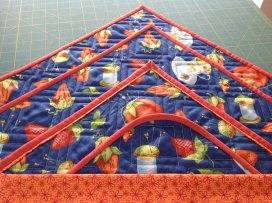 6-way Binding Class

June 29


Collage Class
We will be bring home the exclusive pattern from our Shop Owner's Retreat with Laura Heine in Montana
I'll post a pic of it as soon as we see it - So far it is a mystery.
Cyn and Jennifer will come home Certified Instructors!
2 part class

June 28 & June 30


Tumbling Triangles
Studio 180 Design pattern V-block tool


2 part class



July 6 & July 7


Kids Camp


4 part class



July 16, 17, 23 & 24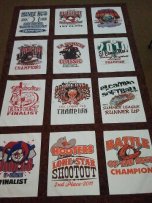 T-shirt Class
August 10



Little Bits Paper Piecing


pick your pattern


August 17
*****************************


Innova Longarm Quilting System w/ Navigator System




Quick Turnaround




Need an embroidered label - Ask us!




WE DO BINDINGS!




(hand tack or machine stitch in the ditch)


Get and use your punch card



T-Shirt Quilts




Let us make it for you or let us teach you how to make it!




it's not a quilt...until it's quilted!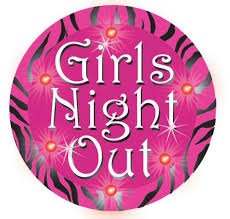 Friday, June 28

RSVP a must!
$15 - menu: crack chicken, salad & dessert
sign up online
Collage News!
Cyn and Jennifer will be attending the Shop Owner / Teacher Certification Collage Retreat June 20 - 23 in Billings, Montana with Laura Heine
We will come home with a new exclusive pattern!
We will also be starting a collage BOM this summer and will be announcing this start date soon.





BeColourful Workshop
June 28



********************************************************************



Sign up for Newsletter on Home Page of our Web Page
Share with friends - spread the word!
www.quilterscottagefabrics.com

Like us on Facebook
www.facebook.com/quilterscottagetx