Shop Hours: Monday - Saturday 10am - 5pm
OPEN Sundays noon - 4pm


This Week at the Shop!

July 8, 2019

Please apply in person


Aurifil Thread of Month
Sign up at shop and receive the box and
first month thread 50 wt. white FREE
Receive a spool our choice each month discount price $13.50
Row by Row June 21 - September 3
Our row: Easy as Pie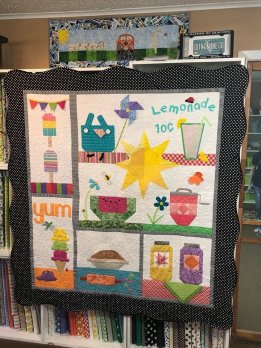 Our quilt
We have gone together with 7 other shops in South Texas Area to bring you a very unique EXPERIENCE this summer. We have gotten together and designed our rows to collaborate with each other and have chosen fabrics to coordinate to bring you a super cute finished quilt. We are also offering a Shop Hop within Row by Row. Finished quilts will be posted next week for viewing!

Details:

June 21 - September 3, 2019
Row by Row Shop Hop--This shop hop is an event IN CONJUNCTION with the Row by Row Experience.
***ALL RULES AND REGULATIONS OF THE NATIONAL ROW BY ROW EXPERIENCE STILL APPLY***
We want to promote our EIGHT COORDINATING ROWS for our eight shops so we are offering a unique opportunity to not only collect all of our KITS but a FINISHING KIT as well. Once you purchase all eight kits and ONE finishing kit of your choice from the participating shops listed you will be entered in to a drawing for prizes.
This "A Taste of Summer RXR Shop Hop" will begin June 21st and last until July 13th.
only 5 more days!
**A Taste of Summer RXR Shop Hop Details:
1. Pick up your passport at any of the shops listed below.
2. Purchase a kit from each shop--get passport stamped (free pattern does not count-must purchase kit)
3. Purchase ONE finishing kit of your choice from any of the eight shops listed--get passport stamped
4. After purchasing all eight kits and one finishing kit between June 21st-July 13th leave completed passport at one of the shops to be entered into prize drawing.
Grand Prize:
A 3 day, 2 night retreat for 5 people at Three Oaks Retreat Center in Yoakum. (Extra spaces can be purchased from Three Oaks Retreats).
2nd-9th Place:
$25 Gift Certificate from Participating Shops
The following shops will be participating in the "A Taste of Summer Row by Row Shop Hop":
Two Chicks Quilting--Ganado
Quilters Cottage--Richmond
It Seams to be Sew - Sugar Land
Quilters Patch--Victoria
Beefore It's A Quilt--Port Lavaca
Seams Like Home--Yorktown
Three Oaks Retreats--Yoakum
The Square Quilter--Shiner
"A Taste of Summer" quilts are being shown on these shops facebook pages and their webpages / newsletters.
Row by Row Experience Completed Quilt Challenge:
**Anytime between June 21–October 31, 2019 be the first person to bring a finished (quilted, bound, labeled) quilt using at least 8 different rows from 8 different participating stores into a participating quilt shop and receive a bundle of 25 beautiful fat quarters.
**Include the shop's row in your quilt and receive a bonus prize! Limit one prize per person.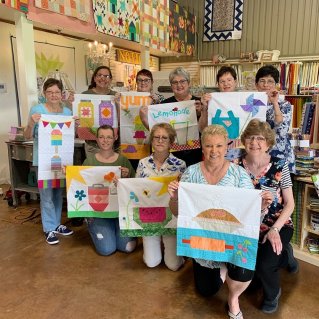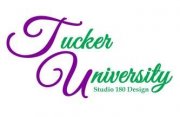 Sophomore Year is underway!


4 patch square up 2-501




Geese on the Edge 2-601


Freshman Year is being repeated!


Lemoyne Star 1-6-1




Lemoyne Star Advanced I 1-1101




Lemoyne Star Advanced II 1-1201


See classes on webpage for dates & sign up Online.
www.quilterscottagefabrics.com


A BeColourful Class
with Authorized Teacher Megan Hollingshead
Pick your pattern


2 part class



June 15

& July 13


A BeColourful Class
Picnic & Lemonade
July 13





Jelly Roll Rug


August 16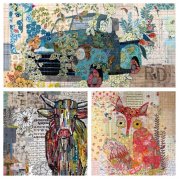 Teeny Tiny
Collage Class
July 18


Kids Camp


4 part class



July 16, 17, 23 & 24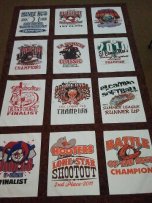 T-shirt Class
August 10



Little Bits Paper Piecing


pick your pattern


August 17



Collage Class


2 part class


August 24 & 30
*****************************


Innova Longarm Quilting System w/ Navigator System




Quick Turnaround




Need an embroidered label - Ask us!




WE DO BINDINGS!




(hand tack or machine stitch in the ditch)


Get and use your punch card



T-Shirt Quilts




Let us make it for you or let us teach you how to make it!




it's not a quilt...until it's quilted!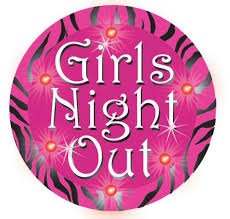 Friday, July 12

RSVP a must!
$15 - menu: crack chicken, salad & dessert
sign up online
Collage Workshop
July 14





BeColourful Workshop
July 28



********************************************************************



Sign up for Newsletter on Home Page of our Web Page
Share with friends - spread the word!
www.quilterscottagefabrics.com

Like us on Facebook
www.facebook.com/quilterscottagetx