12" Round Quilt Hoop

12" Round Quilt Hoop - This hoop has rounded edges and a smooth sanded finish. Made from Basswood with a solid wood block closure and a 4" plated set screw to hold your fabric taut. These hoops are 1 1/4" high, very lightweight and easy to quilt with.


Price

$ 19.50

Quantity:






Dill Rubber Thimble

These thimbles are available in small, medium & large.


SIZE:

Price

$ 2.75

Quantity: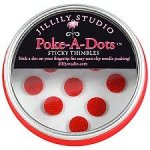 Poke-A-Dots (sticky thimbles)

Jillily Studio - stick a dot on your fingertip for easy non-slip needle pushing!


Price

$ 9.99

Quantity:






Roxette Thimbles

Premium thimbles in sparkling colors for quilters and other needle artists.


SIZES:

Price

$ 22.49

Quantity: